Climbing El Capitan...again - Zenyatta Mondatta
Nov 05, 2021
The Bomb Cyclone totally exceeded what I expected in terms of weather. Josh stayed dry. I got wet. I was sleeping on the outside half of the portaledge, with a small leak just below the window. Pour enough water on that and it adds up to getting soaked. I was never really cold, but wet was pretty bad.
I wanted to stay up on the cliff and keep climbing. I was worried about time and momentum. It was Monday and I had until Saturday, then I had to head back to San Diego. Josh talked me into coming down for a day. We rappelled down the 250', leaving our gear and portaledge behind.
[FULL PHOTO SHARE AT THE END]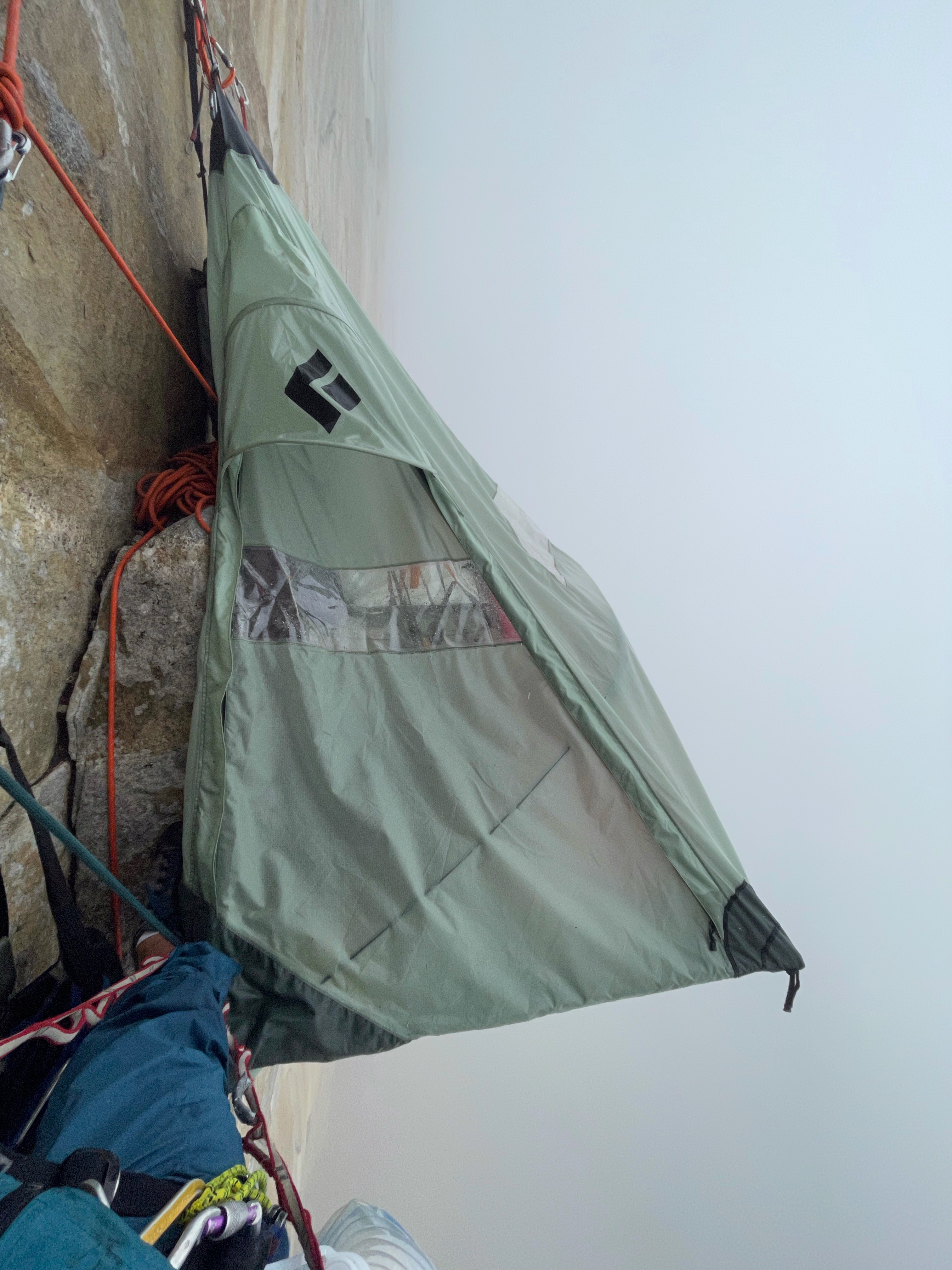 We drove out of Yosemite National Park to Mariposa, checked into the Yosemite Inn for one night and dried out our sleeping bags. Additional luxuries included hot showers, toilets, a few items from the grocery store and burgers from Happy Burger across. I laid my sleeping bag over the ironing board and set it in front of the heater. After a short sleep, we were up at 5am, drove back into the park and hiked back up to the base. My sleeping bag was dry. I was super grateful for that.
I had to be back in San Diego by Sunday to catch our Monday morning flights. We hadn't expected the rain to set us back so much. The guidebook said the route takes 5-6 nights on the wall. We were pacing to be done in 4 nights. Then I accidentally dropped my hammer. This was a route that required a hammer to set and remove pitons, metal spikes driven into the cracks in the wall. Each of us would use our hammer to set or remove the pitons. Losing one added the extra chore of swapping every pitch (having to send the hammer back down on a rope after completing a section (pitch).
That said, so many things were going right. We ate well. We had plenty of food and water. We were managing our battery power to keep our phones and headlamps charged. The sun had just set and dusk had turned to dark on Day 2. I'd done a quick recharge of my headlamp the night prior, but obviously not enough. My lamp went dark. I was just about to launch off and second the Lightening Bolt Roof. That was scary. I called up to Josh, "My headlamp just went dead. Is your extra one down here?"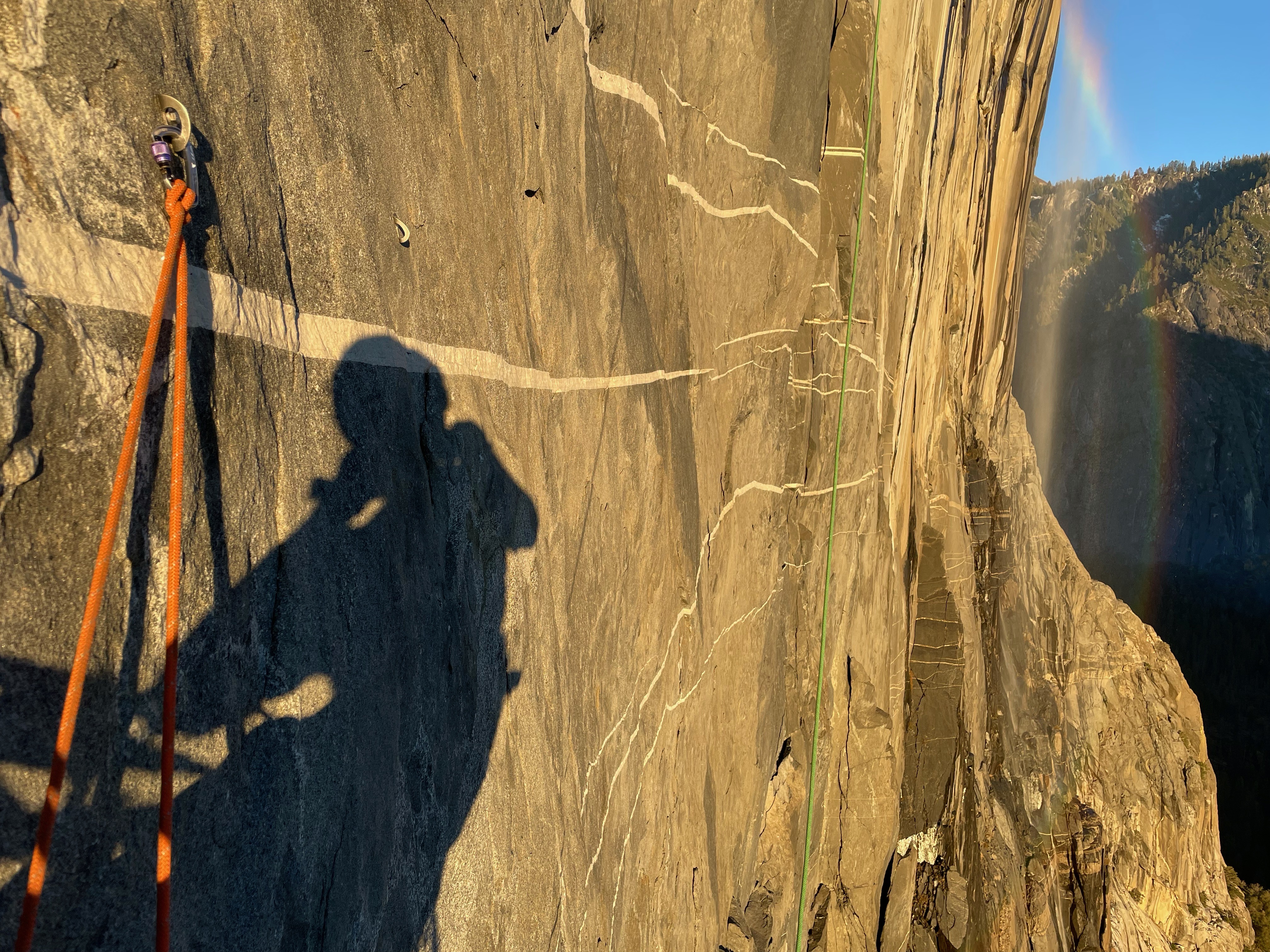 The lightening bolts of Lighting Bolt Roof
Josh pulling the Lightening Bolt Roof
"Yeah. It's a little hard to find. It's in the main compartment of the green bag in a small mesh bag."
I said a quick prayer and then used my iPhone light to get the bag open and reach inside. My hand immediately felt a mesh bag.
"Does it have a Velcro top?"
"Yeah, it's inside in a small case to protect it from getting turned on." I turned it on and felt the immediate relief of a problem solved. I had light.
I said to myself, "You dropped your hammer, but it's going to be okay. You're going to figure out how to climb this route with one hammer. You're going to get your own head lamp fully charged. You're going to keep pace and top out in time to make your flight. You're going to jug this line in the dark and—piece by piece—get through these roofs, make it to the ledge and sleep well tonight." I spoke out loud to myself. I talked myself through the fear.
I remembered the peace that can come from climbing at night. The whole world exists within the glow of your headlamp. It can be finite and calming. No distractions. I climbed precisely, deliberately, focused. I passed my top ascender past the pro, switched my fifi hook from the lower ascender to the upper ascender. As I weighted the upper ascender, I lifted and released the lower ascender from the rope, often doing a slight pendulum to below the next set piece. All this happened dangling free in space away from the cliff because of the overhang. I took special care to make sure each movement was effective, not catching or snagging. I didn't pull on my ascenders out of sequence. I didn't try to stand up on an ascender without switching over my fifi. I was on point. I remembered the advice, "It's always easier to clean from above." I didn't try to strong arm cleaning pieces. I jugged up to be even or above them, and easily removed them.
It's like typing with precision. You can hit delete and go back to clean up any mistakes, but when you get it right the first time, it's smooth and easy, almost effortless. I was going for effortless.
Effortless by Greg McKeown, the perfect book for a big wall quest.
Josh and I both brought reading for two days of waiting out the rain.
I wasn't doing a good job of eating during the daytime hours. I was too busy with all the tasks of belaying, and my food was often buried in the packs and a pain to get out. This often meant I was hangry by the time the sun set and we were trying to set up the ledge and cook dinner. After eating, I always felt better. Josh was super generous with his Mountain House Adventure Meals. We ate chicken and dumplings and lasagna with meat sauce for dinner. I added Costco chocolate muffins and hot chocolate for dessert.
I kept my phone on Airplane Mode to preserve battery power. My one exception to this was calling Emily. I liked calling at night and giving her the update. It was good for Josh and I to talk with someone besides each other. We'd already been together a full week, just the two of us. It lightened the mood and made it easier for us to keep going. We had 16 pitches to climb.
After pitch 9, I wanted to come down. We were running late, and I was tired or leading awkward chimney pitches and seconding traversing overhangs. "I'm not having fun anymore. These pitches are sucky," I told Josh. Josh just smiled, laughed and talked me "off the ledge." He's good at that. The next morning we pressed on, upward.
A hook move.
Pitch 11 was my test. I was chugging along, actually enjoying myself. I really like clean aid: hook moves, cam hooks, cams, etc. I'd done a traverse with 2-3 hook moves. I slipped a wire rivet hanger over a bolt with no hanger. I cinched that up and reached upward to clip a fixed piton with a sling. The crack above was sustained A3. I stood up on the fixed sling and the next thing I knew I was looking outward at the Valley as if I were laying on my back. Josh described it like when Spider Man does a backward swan dive.
"I felt like I was watching you fall for a full five seconds," he said.
My body spun counterclockwise, reached the end of the pendulum and swung back, rotating the other direction. It was unexpected and effortless. Josh caught my fall, and I was uninjured, a perfectly clean fall over vertical rock. The sling had blown (too much time in the sun) and the rivet hanger ripped off. That left all the traversing hook moves unprotected. I swung the full pendulum and centered up under my last piece that held: a sling I'd put on a fixed piton just before the traverse.
After getting a sip of water and taking a moment to collect myself, I hoisted myself up to my high point with Josh's help. He'd taken a short fall first thing that morning when a cam didn't hold. Also a clean fall. He would fall again later that day when a wired stopper blew. None of us got injured on any falls. That is the beauty of vertical and overhanging climbing. We both felt grateful our systems worked. We were safe. Josh had been really worried before the climb about possibly cutting a rope. We used the tag line as a back-up rope. We tied into strong points on the back of our harnesses and fixed it at the belay anchor. It would be a 100-200' fall, but it was better than the alternative.
The next day I heard Josh call out, "Oh no!" I looked up. "I just dropped my jacket," he'd brought three jackets of various weights, "and my headlamp was in the pocket." He brought two, and now he was down to one. I'd managed to get mine charged. He still had the spare he'd loaned to me previously.
The next night, I reached Josh at the belay well after dark. He was sitting there like an unlit Batman. "We've got a complication," he said. "My headlamp is dead."
"No worries," I said. "Once we set up the ledge and eat dinner, we can use my battery charger and top it up." His spare headlamp didn't take batteries. We had plenty of those. It could only be charged with a USB cable. I had a recharger with a little bit of juice left. Over the next two days, we tried unsuccessfully to get his headlamp to hold a charge.
After all the delays, our plan was to climb four pitches on Saturday and summit that night, even if that meant we climbed into the night by headlamp. With only one reliable headlamp between us, that was no longer a possibility.
Saturday evening, Josh and I were two pitches below the top. We'd completed 14 out of 16 rope lengths. "I cannot be on this wall tomorrow," I told him. "I have to catch that flight." Emily and I had an important speaking engagement Tuesday morning in Dallas.
"If we try and climb in the dark and my headlamp goes out. That's going to be bad. We're tired and hungry. This is when people start making mistakes. I think we should spend one more night on the wall and finish early tomorrow in daylight."
I did the math. It was getting really tight. But he was right. This is when mistakes happen and mistakes can be deadly.
Miraculously, a team of three ladies happened to be summitting on Zodiac, the route right next to ours. We watched them as the finished the final pitch.
After some initial chit chat, I said, "We may need to ask you a favor. We need to finish tonight as well, but we're down to one headlamp. I'll Venmo you $100 if you'll lower a headlamp to us from the top."
No luck. They explained they needed all their headlamps for the walk-off. They were not sleeping on top that night.
Josh agreed he'd lead the first bit of Pitch 15, the tricky bit, lower back down to the belay and then we'd set up the ledge for the night. That would leave the second half of pitch 15 and all of Pitch 16, which was short, for Sunday morning. After setting up the ledge and eating, I called Emily.
"I have good news and bad news."
"Let's start with the bad news," she said.
"No, let's start with the good news. Josh and I are alive and well, healthy and happy. We're 150' below the summit." I explained about the headlamp and how we'd get up and climb at first light. We wouldn't even do breakfast until we were on the summit.
Emily liked our approach and was glad we were going to sleep well. We'd been getting to bed around 11pm and waking up at 5am. We'd been climbing 12-14 hours a day. After cooking and everything else, we were only getting 5-6 hours of sleep each night. Saturday night, we were in bed by 8:30pm and slept until 5:30am. Nine hours was amazing. Rest served us well.
We summitted at 11am.
It was good I stayed tethered to the anchor, even at the top. As I hauled the bags up, I kept tripping over my feet and the ropes. After a week on the wall, I'd forgotten how to walk. The air was perfectly clear. Bluebird skies with contrail clouds marked the sky. Half Dome sat patiently in the distance. Josh jugged up the lines and we high fived. Neither of us were sure we were going to make it up this climb. But here we were. We each enjoyed the last swigs of water from our jugs. We were officially out of water. Perfect. Thanks to the rain, there was plenty of water on top.
Summit tree.
Big thanks to Emily for arranging the F-16 flyover to celebrate our topping out.
Two tired dudes at the top.
We dragged all the bags and gear to a flat spot. The plan was to separate our gear, hike out with my gear and any food trash. Josh would come back later for the rest. We took off our harnesses for the first time in a week. What a relief.
We stumbled around relearning how to walk, cooked the last two cans of soup and ate almost all the remaining snacks. We snapped pictures, sang along to music coming from our Bluetooth speaker. My phone was at 4% after six days. We'd managed to stay juiced up all the way to the top. So much had gone right. We laughed and lounged a little and then hefted our 75+ pound packs onto our backs. We lumbered downward until we reached the creek that turned into Horse Tail Falls. It had been dry the week prior, now it was flowing strong. We drank up, I dunked my head and we continued on.
We reached the East Ledges repels and slung the bags below us as we rapped down five rope lengths. Josh and I swapped packs (giving him a turn with the tall and awkward portaledge). The repels turned to talas, and the talas turned to trail. This is the part where my legs get the most tired, the constant downward walking with no rests. The Valley floor slowly rose to meet us. I could hear cars in the distance through the trees.
Josh got to the parking lot first, dropped his pack and walked the quarter mile to get his van. When I arrived, I dropped my pack, threw out the garbage and dumped the poop bag. (For anyone that cares, we basically pooped in bags, tied them off, and put them into a "fish bag" made of super strong plastic and then put it all in its own dedicated junker back-pack which we threw away afterward.)
We drove back to where we'd parked my minivan, emptied our food out of the bear boxes and looked up at the summit where we'd been only five hours before. I ate a piece of leftover pizza from the previous week. Our milk had gone bad but we had a box of cookies. We answered questions from a nice French guy who wanted to know if it was allowed to sleep in your van in the park.
Josh and I hugged, made sure my gear was in my van, moved his food to his van, and I drove off. We would swap photos later. I called Emily and I told her I was on the road. It was Sunday at 4:30pm. I had an eight hour drive ahead of me. I'd see her that night. Our flight was the next morning. As I drove out of the park, I took Josh's advice and listened to music that would make me cry. We had a play list of downloaded music we listened to on the wall. That was as good as any.
As I drove my way down Route 140 south toward Fresno, all the emotions came out. My mind and body had been on high alert for past 10 days. Every moment I had to make sure I was connected to the cliff and safe. Even the simple things (sleeping, eating, going the bathroom, getting a snack) took mounds of extra thought and effort. Winding down the road I shed that load and felt gratitude for all the things that had gone right:
I got to climb the most iconic cliff in the world, with an amazing friend and climbing partner. Our gear and skills held up and kept us safe. We'd weathered the strongest storm in California history on the side of a cliff. We'd cheered each other on and, even when we weren't sure we could or wanted to, we made it to the top. We came down safely. It takes a while for all that to sink in.
I made it home and got 4.5 hours of sleep before I head to fly off to Dallas. After 24 hours in Dallas, and delivering the presentation we'd promised to make, I'm back home, letting it all sink in. I'm grateful to be on our couch, typing on my laptop with unlimited electricity, a fridge, shower, bathroom, sink, dishwasher and bed nearby. All I have to do is walk across a carpeted floor to easily reach any one of them. My arms and hands are sore beyond belief. I'm can almost make a fist again. My swollen knuckles are receding to their normal size. After a few nights off the wall, I no longer wake up and reach for my harness, but I do still look over the side of my bed, expecting to see thousands of feet of air beneath me. I'm sure that will go away soon. I suspect the time will come when I'll want to venture out again. I'll want to get off the couch and go do something else. I'm not sure when, but I'm curious to find out. I'm good for now.
[PHOTO SHARE]
The ladies finishing Zodiac next door.
Josh leading out one of the steep A4 pitches.
Cush belay
The commute back to the portaledge after a night on the ground.
The key to climbing well is to take oneself very seriously.
Sunshine and no harnesses
Get awesomeness in your inbox.
Join our mailing list to receive ideas to make your life even more awesome.
We hate spam too. We will never sell your information, for any reason.